MOUNT PRINCETON HOT SPRINGS RESORT
BALLOON RIDES.
HOT AIR BALLOONS.
All of our flights launch from the same area in the South Park Valley. We have strategically located our balloon ride operations in this area so that we may conveniently service all of our guests from the Buena Vista/Canon City/Fairplay Region, the Breckenridge Region, the Denver/Front Range Region and the Colorado Springs Region from this one central location.
The South Park Valley is a National Heritage Area perched 9,000-10,000 feet above sea level located in the geographic center of Colorado. Our beautiful mountain valley offers the ultimate topography for hot air ballooning with a mixture of vast rolling hills, 360 degree panoramic mountain views and native wildlife.
The Buena Vista/Canon City/Fairplay Region featuring world class whitewater rafting, Mount Princeton Hot Springs, Cottonwood Hot Springs, fly fishing, zipline tours, jeep tours, helicopter tours, ghost towns, Royal Gorge Bridge, Royal Gorge Railway, the Leadville Railroad and the South Park City Museum is an ideal location for destination travelers to stay that are looking to combine these activities with the best hot air balloon rides in Colorado. Our balloon ride facilities are conveniently located only 40 minutes from Buena Vista, 1 hour and 15 minutes from Canon City and 25 minutes from Fairplay. Our balloon rides make for the perfect day trip to explore the Central Rockies and to enjoy our wonderful world of hot air ballooning.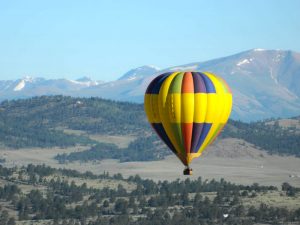 Colorado Hot Air Balloon Rides
1040 N Tabor Dr.Castle Rock, CO 80104
888-468-9280 | Coloradoballoonrides.com
ACTIVITIES & CONCIERGE SERVICES
This activity is an extreme test of a person's physical and mental limits and carries with it the potential for death, serious injury and property loss. The risks include, but are not limited to: actions of other people including, but not limited to, participants; lack of hydration, weather, and/or other natural conditions. Princeton Holdings, LLC DBA Mt. Princeton Hot Springs Resort is not liable for any injury, property loss, damage, death, etc occurring do to any activity outlined by any information sheet. Guest is participating in any activity on their own merit with no liability to the Mt. Princeton Hot Springs Resort or its agents.