MOUNT PRINCETON HOT SPRINGS RESORT
ALPINE LAKES.
CHERRY LAKE.
This is a very difficult long day hike with 3,260 feet elevation gain. The reward is several cutthroat ranging 32-35 inches long have been caught. The lake sits in a cirque and is very difficult to fish because tall willows (chest high) dominate one side of the lake and the other side contains steep rock slides 30-40 degrees coming right  down to the water. The best area to fish is the North and West shoreline with hopper patterns or small black ant patterns size 20-22. It is advised to bring along a mosquito net for the face in your backpack inventory. Hoards of mosquitos can exist depending the time of year. All of the backpack inventory for the high country can be obtained from the author. "Central Colorado Alpine Lakes".
Cherry Lake Trailhead: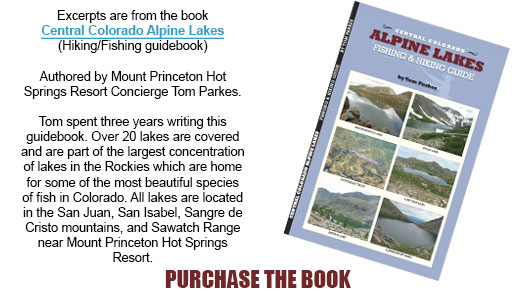 ALPINE LAKES HIKING & FISHING SPOTS
Book Your Activities With The Concierge
Many of these activities offer exclusive discounts to guests of Mount Princeton Hot Springs Resort
Or Call 719-395-2447

(ext. #3333)
9AM – 5PM Daily
This activity is an extreme test of a person's physical and mental limits and carries with it the potential for death, serious injury and property loss. The risks include, but are not limited to: actions of other people including, but not limited to, participants; lack of hydration, weather, and/or other natural conditions. Princeton Holdings, LLC DBA Mt. Princeton Hot Springs Resort is not liable for any injury, property loss, damage, death, etc occurring do to any activity outlined by any information sheet. Guest is participating in any activity on their own merit with no liability to the Mt. Princeton Hot Springs Resort or its agents.