MOUNT PRINCETON HOT SPRINGS RESORT
ALPINE LAKES.
GRASS LAKE.
This lake is in the San Isabel National forest located off hwy #50 above Monarch Lodge. It is a very short but steep hike o.9 miles up with Banana mountain (12,339′)  located to the Northwest. Large fat cutthroat (16-18 inches) exist in this lake and are best caught in the spring when the ice starts melting. It is a shallow lake and offers plenty of food especially at the inlets located on the North and West sides. Small black ant patterns along with midges are productive as well as red/white Mepps lures. The trail becomes obscure approximately half way up so by hiking close to the stream the lake should eventually be found. Waypoints and a GPS coordinate on a topo map can be found in a guidebook "Central Colorado Alpine Lakes".
Grass Lake Trailhead: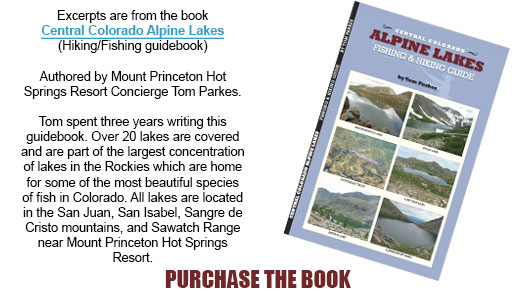 ALPINE LAKES HIKING & FISHING SPOTS
Book Your Activities With The Concierge
Many of these activities offer exclusive discounts to guests of Mount Princeton Hot Springs Resort
Or Call 719-395-2447

(ext. #3333)
9AM – 5PM Daily
This activity is an extreme test of a person's physical and mental limits and carries with it the potential for death, serious injury and property loss. The risks include, but are not limited to: actions of other people including, but not limited to, participants; lack of hydration, weather, and/or other natural conditions. Princeton Holdings, LLC DBA Mt. Princeton Hot Springs Resort is not liable for any injury, property loss, damage, death, etc occurring do to any activity outlined by any information sheet. Guest is participating in any activity on their own merit with no liability to the Mt. Princeton Hot Springs Resort or its agents.