KAYAK CLASSES.
Mount Princeton Hot Springs Resort
LEARN TO KAYAK.
Mount Princeton Hot Springs Resort
LEARN TO ROLL A KAYAK.
Mount Princeton Hot Springs Resort
MOUNT PRINCETON HOT SPRINGS RESORT
KAYAK CLASSES.
Kayak Courses Learn to kayak from the professionals at Rocky Mountain Outdoor Center. Our nationally recognized paddle school offers courses for beginners, intermediate, and advanced paddlers. Learn the fundamentals of strokes and balance, perfect your roll, or paddle through whitewater rapids. We offer group courses as well as private instruction. All instructors are certified by the American Canoe Association. All equipment is included. A southwest style lunch provided on all full day courses.
Private instruction from an ACA certified kayak instructor. This class is great for individuals or small groups that want to learn the fundamentals of whitewater kayaking. We will have fun learning to paddle around and flip over our boats. This course can also be offered specifically for those who want to practice their roll.
Times: Available Monday/Wednesday/Friday/Sunday. 10am-Noon OR 1pm-3pm.
Course Details: Reservations Required. Open to all abilities, but will run smoother if all participants are at the same level.
Equipment: Provided- Boat, Paddle, Skirt, Helmet, PFD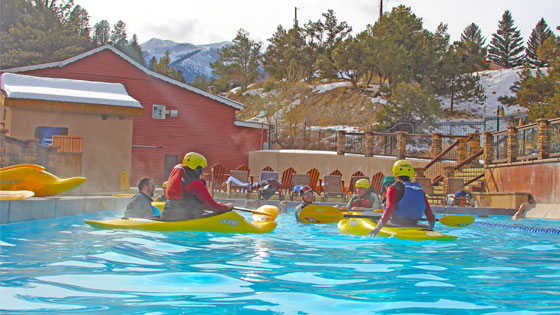 23850 US HWY 285 S
Buena Vista. CO. 81211
719-395-3335
PHOTO GALLERY KAYAK CLASSES.
ACTIVITIES & CONCIERGE SERVICES
This activity is an extreme test of a person's physical and mental limits and carries with it the potential for death, serious injury and property loss. The risks include, but are not limited to: actions of other people including, but not limited to, participants; lack of hydration, weather, and/or other natural conditions. Princeton Holdings, LLC DBA Mt. Princeton Hot Springs Resort is not liable for any injury, property loss, damage, death, etc occurring do to any activity outlined by any information sheet. Guest is participating in any activity on their own merit with no liability to the Mt. Princeton Hot Springs Resort or its agents.