ROCK CLIMBING.
Rock Climbing Buena Vista, Colorado
MOUNT PRINCETON HOT SPRINGS RESORT
ROCK CLIMBING.
Buena Vista, Colorado is an incredible rock climbing destination. The majority of the rock climbing around here is granite slab. The majority of the best sport climbs can be found near the Midland Tunnels and around Turtle Rock, Split Rock, and Transmitter Tower. Elephant Rock in particular provides a unique setting along the historic railroad tracks with incredible views of the Sawatch Mountains.
A Colorado rock climbing and rappelling adventure will be a great addition for groups with beginner or intermediate climbers. If you are an avid rock climber please check out this map for more information about rock climbing locations near Buena Vista, Colorado.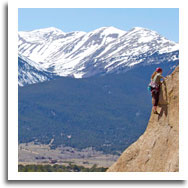 No experience necessary, our guides can show you the ropes.   The beginner spots have beautiful scenery and friendly climbs which makes for a great day with the family. For experienced climbers we can teach gear placement on traditional climbs or we can provide lead climbing instruction on one of our many sport routes.  No matter what kind of trip you are looking for, we can show you a great day on the rocks.  All trips have professional guides trained and certified by the American Mountain Guides Association (AMGA).  Most of all, our guides love to climb and they look forward to sharing that passion with you!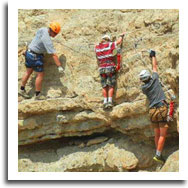 Italian for "Iron Road", via ferrata courses provide adventurers with aspirations of scaling cliffs and traversing ledges the opportunity to flirt with their wild side without the need for extensive climbing equipment or expertise. Traverses and climbs are protected by state-of-the-art equipment and a cable lifeline. Supplementary hand holds, ladder rungs, and anchors provide access to cliffs otherwise unavailable to the general public and create a series of unforgettable traverses easily accessed and enjoyed by hikers and explorers with limited or no rock climbing experience.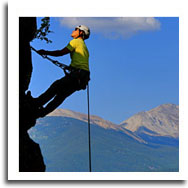 Noah's Ark Rock Climbing
Enjoy three hours of classic Colorado rock climbing and rappelling in the shadows of the Collegiate Peaks Wilderness Area!  Noah's Ark uses established rock climbing techniques and high safety standards to provide an incredible platform of learning for beginner and intermediate climbers. Each person will build trust and gain confidence as they tackle routes that are appropriate to both their level of experience and for challenge. Noah's Ark has multiple climbing sites located just north of Buena Vista, Colorado. Families that would like a different adventure be sure to check out the Brown's Canyon Adventure Park!
Noah's Ark Whitewater Rafting & Adventure Co.
23910 US Hwy 285 Buena Vista, Colorado 91211
719-395-2158
ACTIVITIES & CONCIERGE SERVICES
This activity is an extreme test of a person's physical and mental limits and carries with it the potential for death, serious injury and property loss. The risks include, but are not limited to: actions of other people including, but not limited to, participants; lack of hydration, weather, and/or other natural conditions. Princeton Holdings, LLC DBA Mt. Princeton Hot Springs Resort is not liable for any injury, property loss, damage, death, etc occurring do to any activity outlined by any information sheet. Guest is participating in any activity on their own merit with no liability to the Mt. Princeton Hot Springs Resort or its agents.