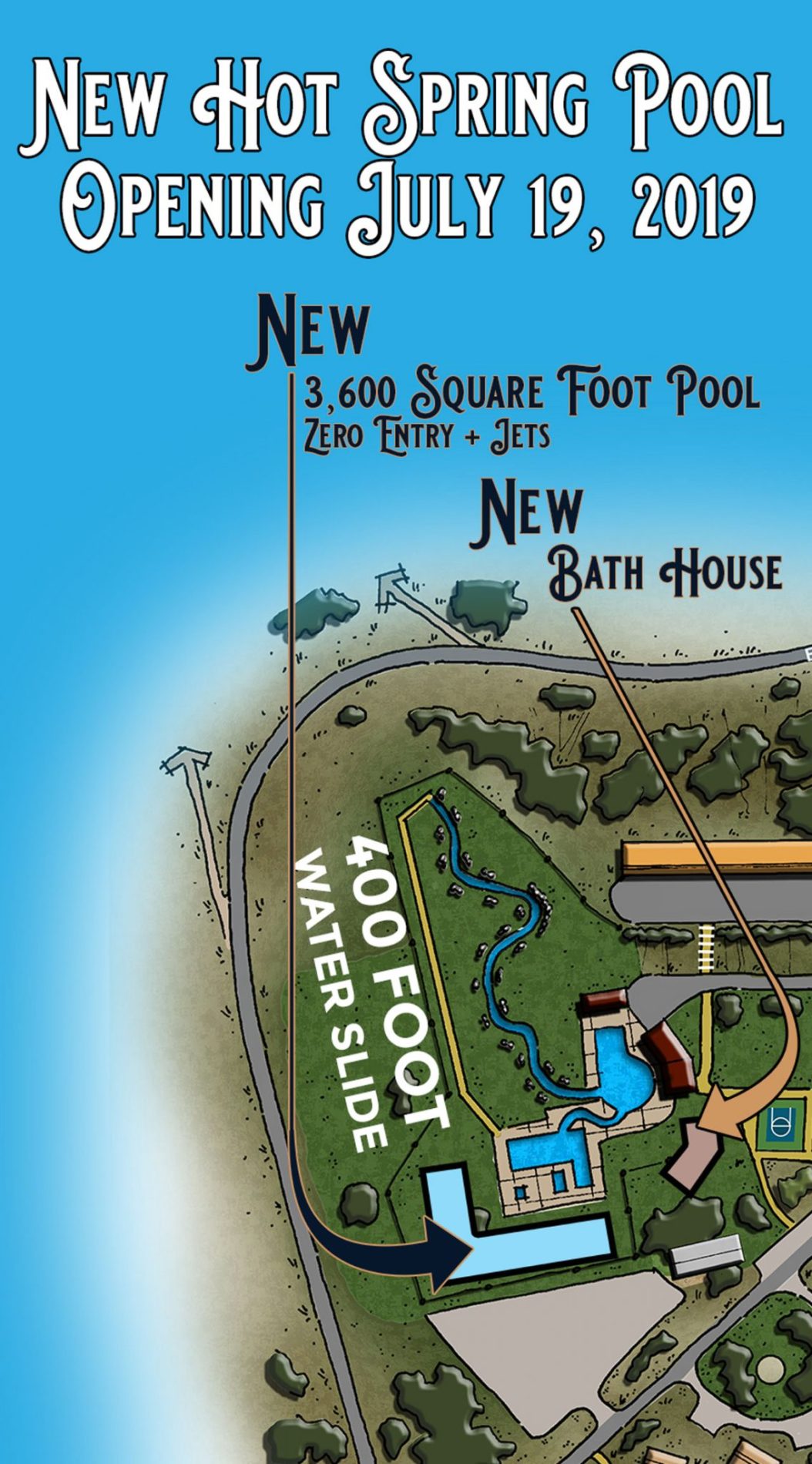 Mount Princeton Hot Springs to Open New Additional Hot Springs Pool
Mount Princeton Hot Springs Resort is pleased to announce the opening of a brand new hot springs pool July 19, 2019 at their expansive facility in Nathrop, Colorado.
The new pool is adjacent to the upper pool and 400' water slide area on the Resort. It will feature a unique infinity-edge design with a zero-entry point on one end, built-in seating and sun bathing deck.
Plans are for this pool are to have an extended season from spring through early winter, being closed only a few months of the year.
"The pool is actually not heated," said Thomas Warren, representative of Mount Princeton Hot Springs Resort. "We installed a quarter of a mile of insulated pex piping from one of our spring sources and the water actually all comes out of the ground at 141° F."
The project is being constructed by DSI Structures, a local contractor, and is projected for completion in a record 5 months.
The new pool at Mount Princeton follows several new development projects at the Resort. A block of 25 new hotel suites was just completed in July of 2018, the Spa & Club was completed in 2013 in addition to numerous other renovation projects on property.
"In the future we plan on building another 25 suites, a destination hotel that includes many of the design elements of the original Princeton hotel, including the new restaurant and convention facilities," said Warren.
Creekside Hot Springs Are Open
The seasonal closure of our natural pools is for your comfort and safety. Snow melt increases the flow of Chalk Creek, creating a cold and unsafe soaking experience. These natural pools reopen when the creek flow lessens and hot water is exposed again. Typically, these closures are experienced May-August. Please call for more details on current creek flows.
Our mineral-fed man made pools are enjoyable year-round
BOOK NOW
719-395-2447 EXT. #0