MOUNT PRINCETON HOT SPRINGS RESORT
ALPINE LAKES.
BEAR LAKE.
This is a pristine lake sitting in the Horn Fork Basin under Mt. Harvard and Mt. Columbia. This lake requires a 5.8 mile trek (one way) up to 12,460′ giving it a 2,620 ft elevation gain. The cutthroats caught here are old but beautiful 18-22 inches in length. There is good camping approximately 1/2 mile below the lake. This area is at tree line and will help protect against lightning strikes which are very common in this area. The lake is above timberline so dress accordingly as there seems to be prevalent winds. There is also a small lake in the camping area that provides water for cooking and cleaning. Mt. Columbia sits off to the East about a mile and a knifelike ridge joins it to Mt. Harvard. Because of the fact that most fish in this lake are old (6-8) years they have battle scars apparent when caught. The most productive  area for fishing are along the N.E. shore with small black ant patterns as well as grasshopper and midge combinations working well. A guidebook with specific directions and additional information "Central Colorado Alpine Lakes".
Bear Lake Trailhead: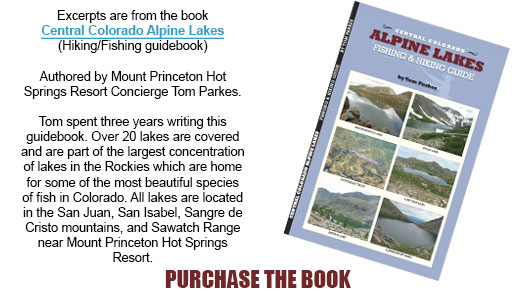 About The Author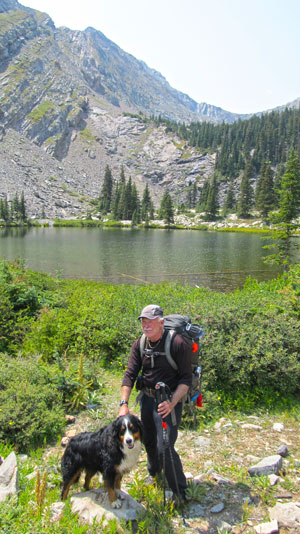 Tom Parkes spent 12 years fishing, hiking, and camping at these alpine lakes, enjoying the solitude and scenery surrounding them. For the most part, these lakes have trails leading to their locations on public land and are open to everyone will ing to expend the effort to hike to them. The most prominent lakes are located in the San Juan, San Isabel, Sangre de Cristo, and Swatch Mountain Ranges.
The best times to hike into these lakes are from late May thru November with lower elevations best done in early and late season. July, August, and September are the best months to reach the higher lakes. To successfully complete these treks, physical conditioning and preparation are very important. The following items are essential: adequate water (at least 1.5 liters per person per 5-6 hours}, compass and topo map, sunscreen, adequate food, protective clothing for cold and wet weather (backup socks/have gloves}, flash light, matches or lighter, whistle, mosquito repellant, aspirin, and a CD for reflective device. Included in this pack of course is the essential fishing gear including a four-piece 5-6 weight rod and reel, for windy conditions I have always had a spin-casting rod and reel with clear plastic bubble. My arsenal of flies is both dries and nymphs. Parachute Madam X is an excellent dry fly and most midge nymphs with wooly bugger patterns are normally productive.
It is important to know what to expect in terms of distance and elevation profiles. A GPS or Topo Map complete with routes up and into the lakes are crucial. Also, it is prudent to be familiar with what I call "points of caution" when hiking into these lakes. Elevation gain and altitude can greatly change the difficulty of the hike.
10 Hiking Essentials
Water (1.5 Liters per person per 5-6 hours)
Snacks (Beef Jerky, nuts, power bar)
Navigation (map and compass and/or GPS)
Sunscreen
Extra clothing (hat, socks, gloves)
First aid supplies
Light (headlamp or flashlight)
Fire starter and matches/lighter
CD Rom or mirror, whistle, mosquito repellant
Emergency shelter (Biffy Bag)
LOCAL HIKES.
12 popular trailheads in the Nathrop area with hikes for all abilities and age levels. Surrounding areas have additional options for exploring our beautiful valley.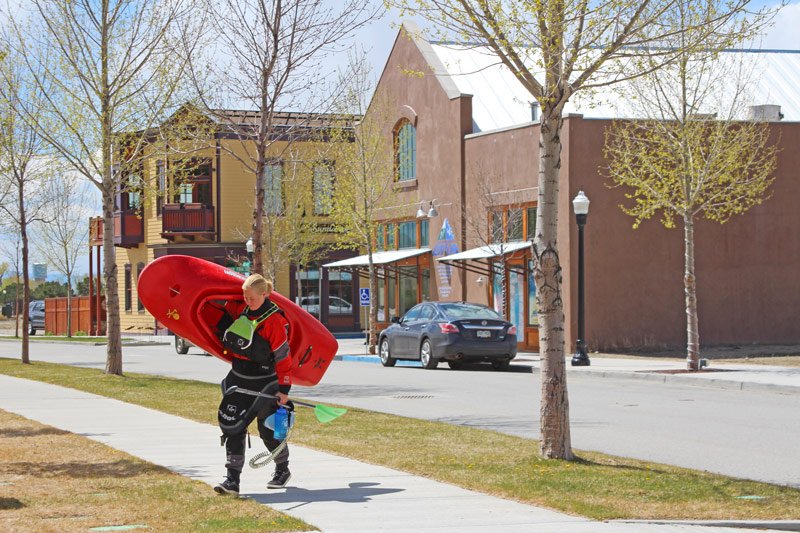 Buena Vista, Colorado is just 9 miles from Mount Princeton Hot Springs Resort. This unique mountain town is located on the Arkansas River. There are many shopping opportunities along with restaurants, a brewery and a distillery. LEARN MORE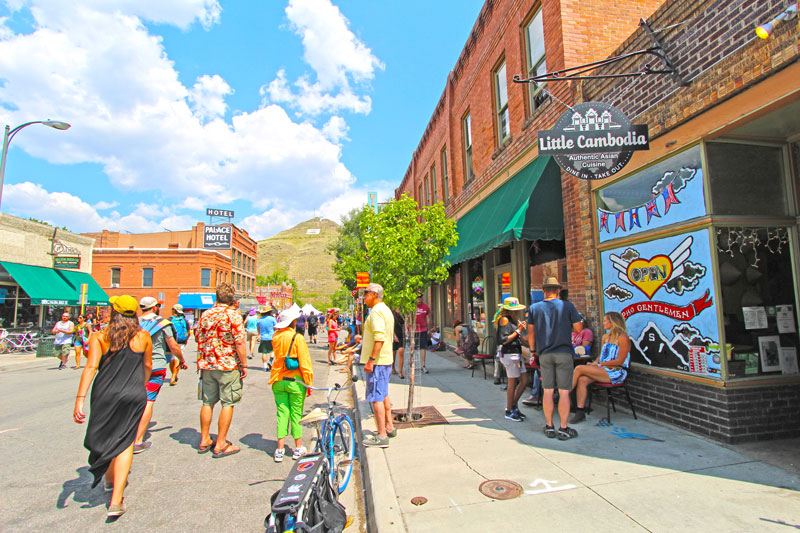 Salida, Colorado is 21 miles from the resort. This is Colorado's largest National Historic District. Dine on the banks of the Arkansas River and explore the many art galleries in this historic downtown. This area was named Colorado's first Creative Arts District. LEARN MORE