The Perfect Meeting Place For Business Or Pleasure.
Mount Princeton Hot Springs is the perfect place to bring people together for any group or corporate function. Whether you're planning a company meeting, or relaxing retreat, you can count on our friendly and helpful staff to make it a fantastic success that is a joy to plan and execute.
For family members and spouses joining you for a conference, wedding or event, the full amenities of Mount Princeton are at their disposal. Swimming, fishing, spa activities, tennis and basketball are available with outstanding hiking, biking, ATV and horseback riding activities abound.
The Perfect Meeting Place For Business Or Pleasure.
Family Reunions can be difficult to organize, trying to coordinate and plan for so many people you only see every now and again. Consider the idea of Mount Princeton Hot Springs Resort, located near Buena Vista Colorado, to be the base of your next Colorado family reunion.
Mount Princeton Hot Springs Resort is loaded with a variety of accommodation options for families and offers access to natural geothermic and odorless hot spring pools included with your stay.
The resort itself is located at the base of Mount Princeton, along the Continental Divide. Because of its location, guests to Mount Princeton Hot Springs Resort often find themselves exploring the Colorado outdoors on a hike, mountain bike, whitewater rafting adventure, ATV tour, ski trip or snowmobile tour.  All these activities are between 15-45 minutes from the Resort.
Allow our Concierge to assist in all your off-resort activities, no matter what season.
Families with small children will truly enjoy the natural hot spring pools and water slide (summer only) included with the resort stay, providing hours of entertainment within walking distance of their hotel room or log cabin.
Choose between several meeting rooms to gather your reunion families together for an informal reception and/or dinner or opt to meet outdoors in one of the picnic areas located on the resort.
The Conference Cabin allows family reunions to utilize its cozy space for dining or event purposes.
There is also a Conference Center and Pavilion onsite, for larger family reunions to host an event, luncheon, or dinner. Both facilities offer breathtaking views and ample space to stretch out.
The views within Mount Princeton Hot Springs Resort are outstanding, with the remarkable Chalk Cliffs presiding over the resort and rustic views up Chalk Creek Valley, Mount Antero, and Mount Princeton. Guests will capture these views during their hot springs soak, from their cabin porch or hotel window or as they walk from amenity to amenity within the Resort itself.
It's easy to allow Mount Princeton Hot Springs Resort to capture your family reunion guests with its beauty, luxury, and affordability. Unite the family at your next family reunion by choosing Mount Princeton Hot Springs Resort as your Colorado family reunion getaway.
It's our promise that your stay will leave lasting memories for the whole family.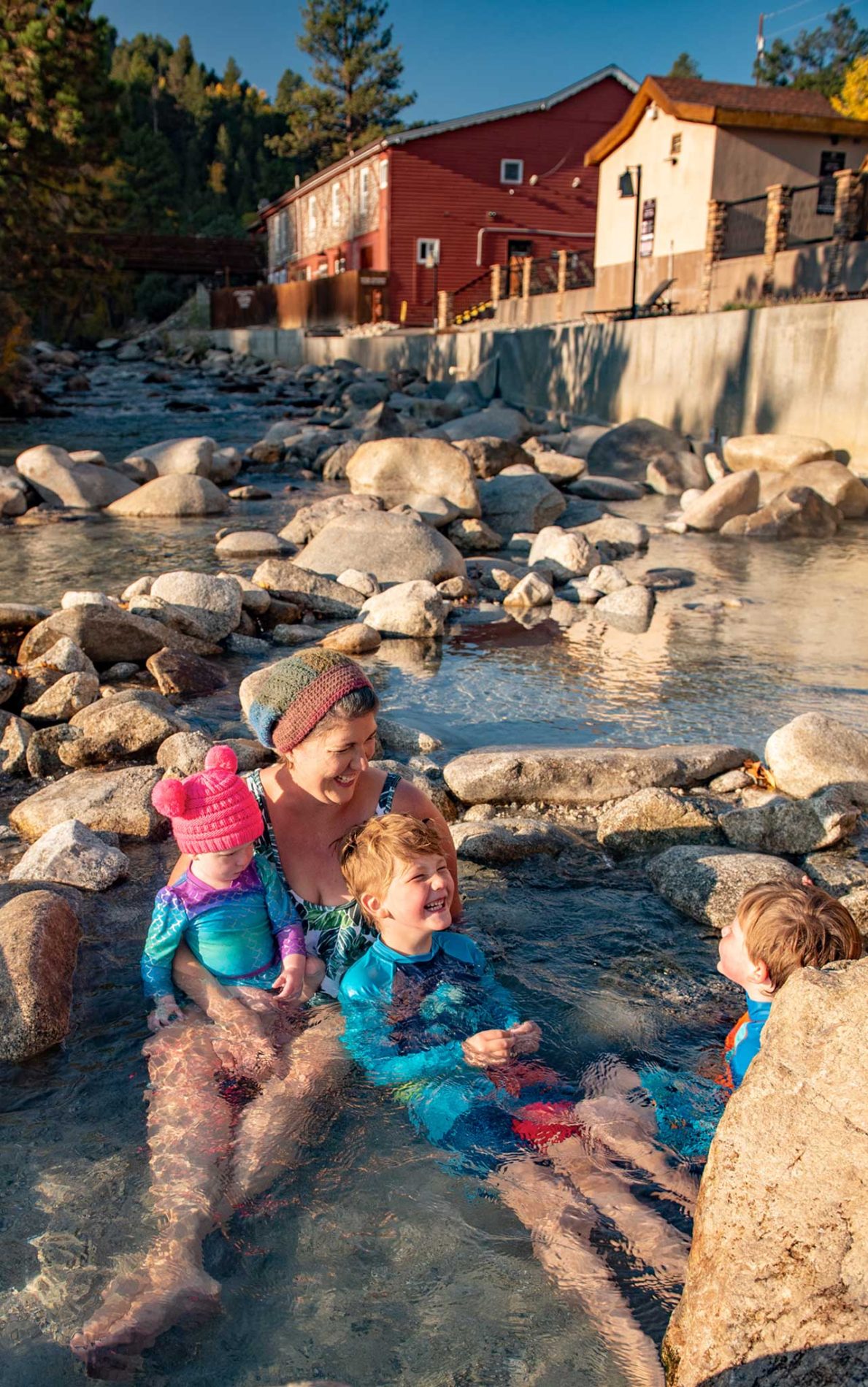 May We Help You Plan Your
Event?
MOUNT

PRINCETON
HOT SPRINGS RESORT
Wedding & Meetings
Photo Gallery

Open Year-Round Since 1897
May We Help You
Plan Your Visit?
Mount Princeton Hot Springs Resort offers a variety of lodging types for any party. Each choice offers a unique ambiance and experience. This expansive 70 acre resort is located in Nathrop, Colorado at an elevation 8,250 feet above sea level. This unique location is surrounded by 14,000 foot peaks with incredible views of the Chalk Cliffs of Mount Princeton.
2 Days Access to Hot Springs
2 Days Complimentary Daily Fitness Classes
2 Days Complimentary Mountain Bike or Fat Bike Rental
2 Days Complimentary Cross Country Skis or Snowshoe Rentals
Book your trip today for the best rates