The Perfect Meeting Place For Business Or Pleasure.
If you're looking for a military reunion destination in Colorado, look no further than Mount Princeton Hot Springs Resort. Our resort offers a beautiful and tranquil setting for you and your fellow military comrades to reconnect, reminisce and make new memories.

Located near Buena Vista, Colorado, Mount Princeton Hot Springs Resort is situated at the base of Mount Princeton, along the Continental Divide. Our resort offers a range of accommodation options to suit your needs, from hotel rooms to log cabins, each equipped with modern amenities and comfortable furnishings.

One of the highlights of our resort is the natural geothermic and odorless hot spring pools included with your stay. These pools offer the perfect place to relax and unwind after a long day of exploring the Colorado outdoors. From hiking and mountain biking to whitewater rafting adventures, ATV tours, ski trips and snowmobile tours, there's no shortage of activities to keep you entertained during your stay.

If you need assistance planning your off-resort activities, our Concierge team is always ready to help. Families with small children will love the natural hot spring pools and water slide (summer only) that are included with the resort stay. They provide hours of entertainment within walking distance of your hotel room or log cabin.

Choose between several meeting rooms to gather your reunion attendees for an informal reception, dinner or outdoor picnic. Our Conference Cabin offers a cozy space for dining or event purposes, while our Conference Center and Pavilion are ideal for larger reunions.

The views at Mount Princeton Hot Springs Resort are simply breathtaking, with the remarkable Chalk Cliffs presiding over the resort and rustic views up Chalk Creek Valley, Mount Antero, and Mount Princeton. Whether you're enjoying a soak in the hot springs, relaxing on your cabin porch or taking a stroll around the resort, you'll be surrounded by natural beauty.

At Mount Princeton Hot Springs Resort, we promise to make your military reunion unforgettable. So why wait? Plan your next reunion with us and create lasting memories with your fellow comrades.
The Perfect Meeting Place For Business Or Pleasure.
If your Military Reunion seeks a new, uplifting, and therapeutic space to hold its next meeting, look no further than Mount Princeton Hot Springs Resort.
Mount Princeton Hot Springs Resort is centrally located in Colorado, at the base of the Continental Divide, between Buena Vista and Salida, Colorado. The Resorts beautiful backdrop of the Chalk Cliffs and towering 14,000 Collegiate Peaks engage visitors, encouraging the Colorado outdoor experience.
Resort guests enjoy complimentary entrance to all the natural geothermic hot springs located on the resort. Hot Spring waters are known for their therapeutic attributes. Allow your Military Reunion members to relax, unwind and reminisce together in these soothing geothermic waters.
Enjoy three different gathering spaces onsite to house your Reunion Hospitality room, banquet space and/or meeting space. Reconnect and reminisce in the Conference Center, with amazing views up the Chalk Cliff Valley, or select the smaller Conference Cabin to house your meeting space. For larger groups, the Pavilion is a wonderful option to host more formal dinners and events.
Accommodations at Mount Princeton Hot Springs Resort are vast and luxurious. Choose from upgraded hotel rooms in three different buildings, modern Creekside suites, or rustic-feeling one- or two-bedroom log cabin. All rooms, suites, and cabins are within walking distance to major Resort amenities.
Enjoy the onsite Princeton Club Restaurant with its casual yet sheik atmosphere and top-notch menu. The Mary Murphy Steak House also features amazing views as well as ample outdoor seating.
Mount Princeton Hot Springs Resort offers complete catering services to suit your Military Reunion needs. Catering services can range from informal Continental Breakfasts to more sit-down or banquet-style lunches and dinners.
When members want to explore offsite, there is a lot to see and do in the Arkansas River Valley near Mount Princeton Hot Springs Resort. Visitors enjoy hiking the Colorado Trail, mountain biking, snowshoeing, cross-country skiing, snowmobile tours, ATV tours and whitewater rafting.
Just 7 miles from the Resort is the Historic ghost town of St. Elmo where adventurous folks can walk around and explore the old railroad town.
Roughly 20 miles from Mount Princeton Hot Springs Resort is the Historic Downtown District of Salida, Colorado. This quaint historic town on the banks for the Arkansas River also features a booming art district. Salida is well worth a day trip to stroll along the art shops and enjoy lunch along the riverbank.
Reconnect and bask in camaraderie with your Military Reunion Members while relaxing and enjoying the Colorado outdoors at the relaxing an inviting Mount Princeton Hot Springs Resort.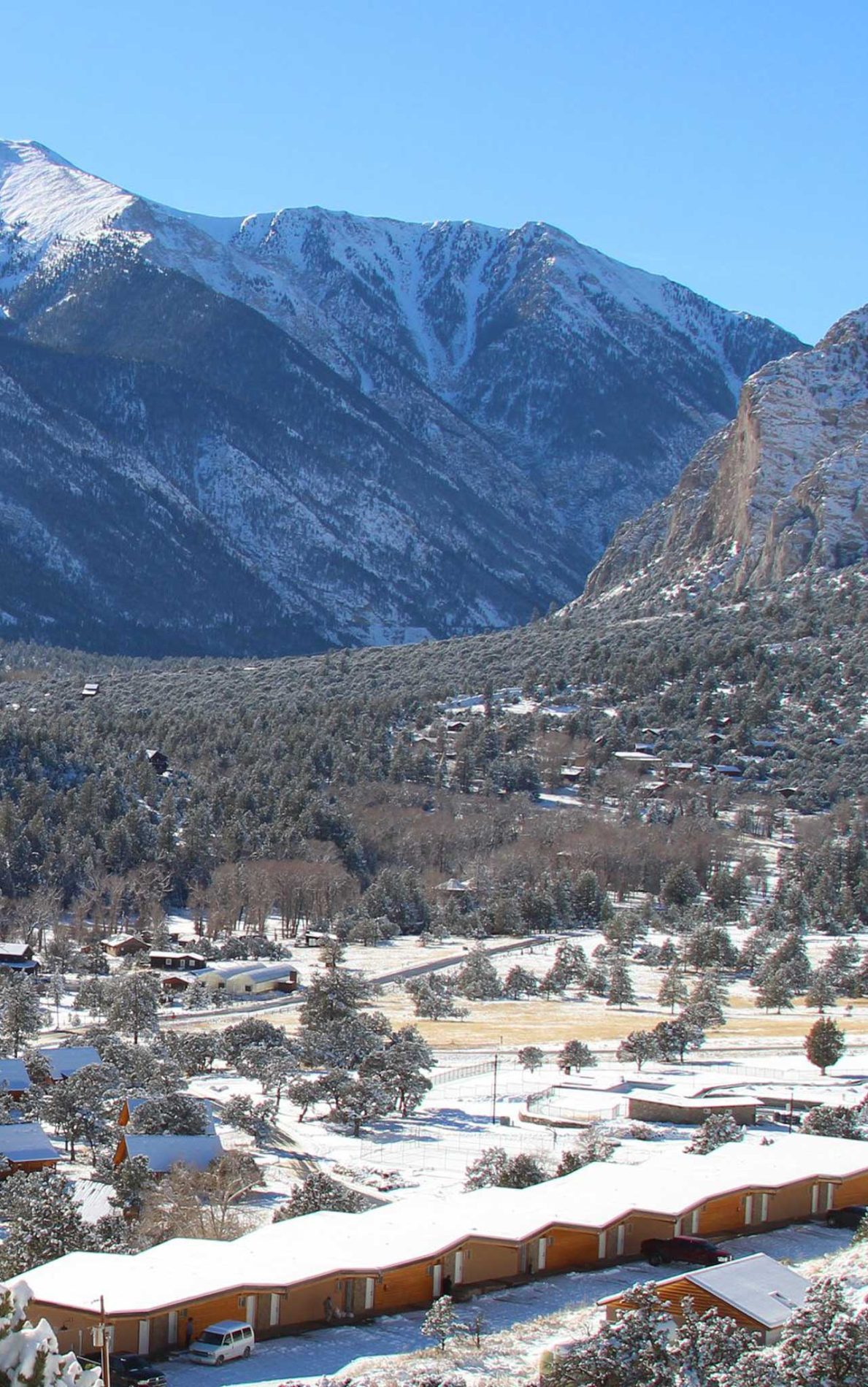 May We Help You Plan Your
Event?
MOUNT

PRINCETON
HOT SPRINGS RESORT
Wedding & Meetings
Photo Gallery

Open Year-Round Since 1897
May We Help You
Plan Your Visit?
Mount Princeton Hot Springs Resort offers a variety of lodging types for any party. Each choice offers a unique ambiance and experience. This expansive 70 acre resort is located in Nathrop, Colorado at an elevation 8,250 feet above sea level. This unique location is surrounded by 14,000 foot peaks with incredible views of the Chalk Cliffs of Mount Princeton.
2 Days Access to Hot Springs
2 Days Complimentary Daily Fitness Classes
2 Days Complimentary Mountain Bike or Fat Bike Rental
2 Days Complimentary Cross Country Skis or Snowshoe Rentals
Book your trip today for the best rates