Mount Princeton Hot Springs Resort
EVENTS

Time: 9:00-10:00 pm Water Yoga class
Price $10, free for overnight and spa guests
Place: Relaxation Pool
Extras: Stay and soak after the class (until closing)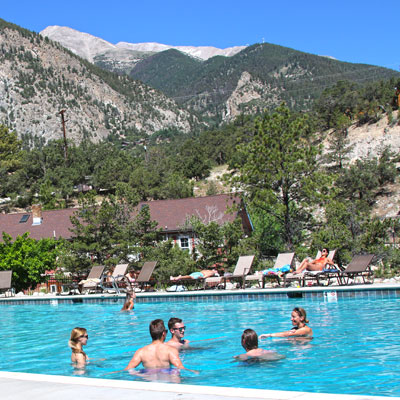 September 7-10, 2018
Teacher Intensive Part 1: The Grace of Great Things
October 12-15, 2018
Teacher Intensive Part 2: The Grace of Great Things
*Prerequisite: Grace of Great Things Part 1
The Grace of Great Things is a two-part program designed to enrich and enhance the experienced teacher's inner life and to bring clarity to fundamental teaching skills through practice, study, contemplation, and discussion.

Join Firefly to celebrate the autumnal equinox in the Rocky Mountains of Colorado
September 20 to 23, 2018
. Ignite your inner fire, and gain the tools and resources that you need to thrive on your return home. Shed the "should" and come play, create, rest and rejuvenate with us in the mountains of Colorado. This long weekend of yoga, hiking, soaking in the hot springs, and communing with others will leave you feeling inspired, refreshed and ready to shine your unique light. Create the life you want! Firefly designs retreats intended to make you come alive, because the world needs us all to shine.

Time: 9:00-10:00 pm Water Yoga class
Price $10, free for overnight and spa guests
Place: Relaxation Pool
Extras: Stay and soak after the class (until closing)

Escape the hustle of the city for a long weekend in the mountains, with Kind friends, hot springs, yoga, and exquisite food. Dive deep into relaxation with unlimited soaking time in Mt. Princeton's healing waters. Invigorate your morning with yoga classes taught by Ellen Kaye and end your evenings in bliss with Jeremy Wolf's signature Yoga Nidra. Indulge your senses with healthy catered Ayurvedic meals and plenty of free time to explore or simply soak and relax. This 4-day, 3-night retreat will engage your body, feed your senses and ultimately revive your spirit!

Relax, detox, and harmonize your mind, body, and spirit at this 3 day yoga and sound healing retreat held at the blissful Mt. Princeton Hot Springs Resort.  This retreat includes yoga classes, group sound healing sessions and workshop, journaling, four organic gluten free vegetarian meals, hot springs soaking, time to hike and/or indulge in optional spa services.  Hosted by Claudia Ingraham, healing sound specialist and Charmaine Stattman, registered yoga teacher.
Perfect weekend getaway for friends, couples, and self!  Option to cabin share or have your own room at discounted rates.  Retreat fee is $395 per person.  Early sign up discount of $355/pp before
July 31, 2018
.  Accommodation prices separate from retreat fee.

Intermediate Asana Intensives are perfect for those without injury or illness who want to explore progressive strategies for more advanced postures.

Select from:

Private swim class
Yoga
Water Cardio
Water Yoga
Pilates
PiYo
Fit Dance/ Zumba
Aqua Stretch
Aqua Zumba
Host Your Yoga Retreat At Mount Princeton Hot Springs Resort
QUESTIONS?
Call: 719-395-2447 (ext. #444)
BOOK NOW
719-395-2447 EXT. #0
Dining Options
RESERVATIONS: 719-395-2447 EXT: #7777
Book Your Activities With The Concierge
719-395-2447 EXT. #3333
QUESTIONS?
Call: 719-395-2447