MOUNT PRINCETON HOT SPRINGS RESORT
The Perfect Meeting Place For Business Or Pleasure
EVENTS
Mount Princeton Hot Springs is the perfect place to bring people together for any group or corporate function. Whether you're planning a company meeting, or relaxing retreat, you can count on our friendly and helpful staff to make it a fantastic success that is a joy to plan and execute.
Please join us for one of these unique events hosted at Mount Princeton Hot Springs Resort
Host Your Yoga Retreat At Mount Princeton Hot Springs Resort
QUESTIONS?
Call: 719-395-2447 (ext. #444)


February 19, 2019
Full Moon Water Yoga
Join us for a Water Yoga Class & Soak In The Hot Springs in the Relaxation Pool At The Spa & Club Age 16+ | No Advance Tickets Required
Time: 8:00-9:00 pm Water Yoga Class
Price $10, free for overnight and spa guests Place: Relaxation Pool at the Spa & Club
Extras: Stay and soak after the class (until closing)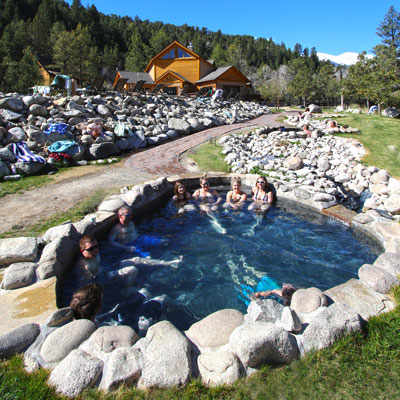 The Total Wellness Retreat at Mount Princeton Hot Springs Resort is a five-day, four-night, all-inclusive lifestyle-change program located in the idyllic setting of Mount Princeton Hot Springs resort. The retreat is led by medical providers and staff from Heart of the Rockies Regional Medical Center.
Participants experience total immersion into lifestyle change using a comprehensive model for health improvement. Participants also enjoy fun, leisure-time pursuits like bike riding and spa services throughout the retreat.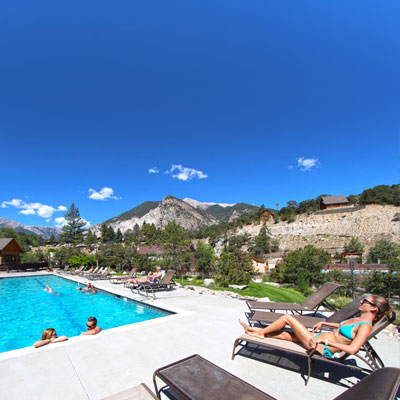 Over the course of 3 days you will explore the origins of your own health, reconnecting with your body's inner blueprint to release stored trauma,stress, and tension and invite a new state of health and energy. The experience will include group experiential learning, multiple guided Hydrogenesis sessions in the natural hotsprings, and a variety of powerful transformational sessions led by our skilled clinicians.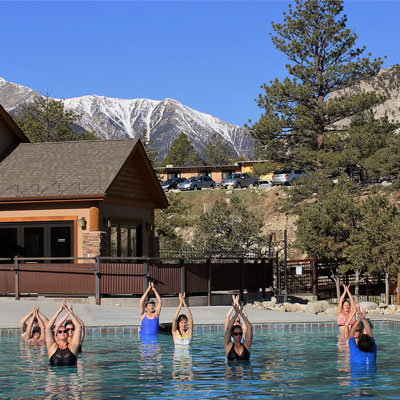 Wild Souls Yoga is all about providing mindful events for the modern woman. We get the challenges of life, and we also understand how necessary it is to take time for ourselves and to be ok with who we are exactly in this moment.  Imagine that…not needing to be or feel any different than you do today. There's no need to get better or to do better…you are enough right now just the way you are!  
So, join us this fall in beautiful Buena Vista, nestled in the quiet and tranquil Rockies surrounded by the breathtaking views of Mother Nature. This retreat will offer you the space to calm your mind, rejuvenate your heart, and nourish your soul.
We have scheduled time for you to explore the surroundings of Mt. Princeton while you are here.  So grab a fresh juice from the juice bar, relax in the Cascading Hot Springs or the Chaulk Creek Hot Springs, spend some time in the Soaking Pool, book a spa treatment (addtl cost), take a hike, find a quiet place and nestle in with a good book or even take a nap under the shade of one of the beautiful oak trees.   There will be time provided for solitude, or to socialize with other lovely women.  
We can't wait to spend the weekend with you.

Select from:

Private swim class
Yoga
Water Cardio
Water Yoga
Pilates
PiYo
Fit Dance/ Zumba
Aqua Stretch
Aqua Zumba

Host Your Yoga Retreat At Mount Princeton Hot Springs Resort
QUESTIONS?
Call: 719-395-2447 (ext. #444)
BOOK NOW
719-395-2447 EXT. #0
Dining Options
RESERVATIONS: 719-395-2447 EXT: #7777
Book Your Activities With The Concierge
719-395-2447 EXT. #3333
QUESTIONS?
Call: 719-395-2447