The Mary Murphy Steak House is located in the main lodge. Enjoy the amazing views of the Chalk Cliffs on Mount Princeton.
Dinner reservations are required.
719-395-2447 EXT: 7
DRESS CODE
We kindly require no bathrobes or slippers be worn into the bar or restaurant.
We recommend casual or business casual attire for Dinner.
Breakfast and Lunch dress code conduct of resort casual wear.
EXPRESS BREAKFAST

MENU
7:30AM-11:00AM
    Mixed Croissants 8.5
    Yogurt Parfait 8.5
    Fresh Fruit Cup 10
BREAKFAST

MENU
8:00AM-11:15AM

Sliced Fruit Plate
seasonal fruit, fresh berries, vanilla bean whipped Noosa yogurt gf
14
Vanilla Cream Oatmeal
rolled oats, brown sugar streusel, vanilla cream, walnuts
14
Blueberry Lemon Pancakes
buttermilk pancakes, candied lemon coin, citrus mascarpone, blueberry compote,
warm syrup, Sawatch Creamery butter
14
Banana Bread French Toast
caramel sauce, house-made banana bread, sliced bananas, candied pecans
15
Colorado B & G
two flaky biscuits, Boulder Sausage Company chorizo gravy, green chili,
two local cage-free eggs †
15
Huevos Rancheros
black bean puree, corn tortillas, two local cage-free eggs,
roasted tomato salsa, pico de gallo † gf/df
15
Steak & Eggs Bowl
crispy potatoes, grilled onion, local mushrooms, cheddar jack, skirt steak,
two local cage-free eggs, chives † gf
16
Traditional Country Breakfast
two local cage-free eggs, home fries, toast or English muffin, choice of
River Bear ham, Daily's bacon or Tender Belly sausage †
15
Skillet of the Day
please ask your server for details of our chef's daily selection of ingredients.
Served with toast or English muffin †
Mkt Price
Denver Omelet- bell pepper, River Bear ham, onion, cheddar † gf
Roasted Vegetable Omelet ¬- roasted vegetables, feta cheese, egg whites † gf
Chorizo Omelet ¬- Boulder Sausage Co. chorizo, onion, jalapeño, cotija † gf
* omelets include home fries & toast or English muffin
15
a la cart: biscuits & gravy 10 | bacon, sausage or ham steak 6 | 1 local cage-free egg 2.5 | 2 eggs 5 | home fries 5 | upgrade toast to house-made multigrain +1
[ "†" = cooked to order. "gf" or "df" = omit gluten or dairy as primary ingredients ]
20% gratuity is applied to tables of 6 or more · Thank you for your understanding
Our kitchen handles a variety of foods, including gluten, nuts, dairy, eggs, soy, fish & meats. We cannot certify dishes "free" of any ingredients. Consuming raw or undercooked meats, poultry, seafood, shellfish, or eggs may increase your risk of foodborne illness.
Breakfast is the most important meal of the day. Our restaurant offers a variety of delicious breakfast options that are sure to satisfy any appetite. Whether you're in the mood for a classic breakfast of eggs, bacon, and toast, or something more unique like our stuffed French toast or breakfast burrito, we've got you covered.

Our breakfast menu is available every day and we have both indoor and outdoor seating options. Dine inside our cozy restaurant or take in the fresh mountain air on our outdoor patio. Whichever you choose, you'll be treated to stunning views of the surrounding Colorado mountains.

We use only the freshest ingredients in our breakfast dishes, including local produce and meats. Our coffee is locally roasted and always hot and fresh. And for those who prefer something other than coffee, we offer a variety of teas, juices, and other beverages.

Whether you're staying at our resort or just passing through Buena Vista or Salida, Colorado, our breakfast is the perfect way to start your day. So come join us and fuel up for whatever adventures the day may bring.

Express Breakfast: 7:30am-11:00am
Breakfast 8:00-11:15am
There is no better way to start your day than with one of our hearty breakfast entrees. Choose from traditional items such as pancakes or eggs, spicy South of the Border, or or seasonal specials.

11:30am-4:00pm
From soups and fresh salads to an enticing array of unique entrees, our lunch menu is sure to pique your appetite. Dine inside or enjoy the incredible views of the Chalk Cliffs and the surrounding 14,000' peaks.

4:30pm-9:00pm
(Dinner reservations until 8:20pm and to-go & walk-in until closing)
Paired with a generous selection of fine wines, we offer gourmet, hearty entrees featuring the best Colorado products available. Save room for a scrumptious dessert!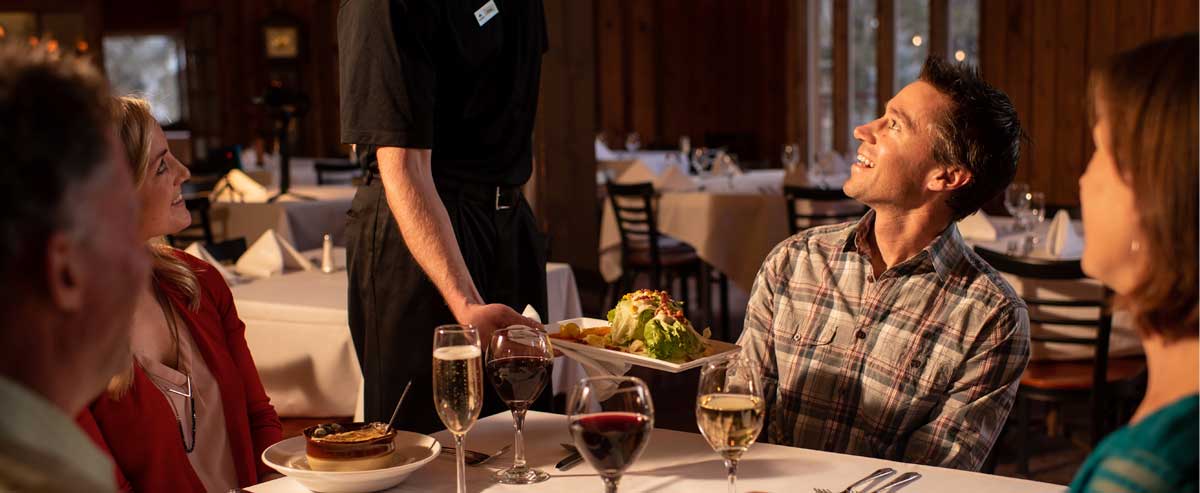 11:30am-9:000pm
From soups and fresh salads to an enticing array of unique entrees, our lunch menu is sure to pique your appetite. Dine inside or enjoy the incredible views of the Chalk Cliffs and the surrounding 14,000' peaks.
May We Help You
Plan Your Visit?