The Mary Murphy Steak House is located in the main lodge. Enjoy the amazing views of the Chalk Cliffs on Mount Princeton.
Dinner reservations are required.
719-395-2447 EXT: 7
Please book your dinner reservations online.
Book your Mary Murphy Steakhouse reservation on Resy
DRESS CODE
We kindly require no bathrobes or slippers be worn into the bar or restaurant.
We recommend casual or business casual attire for Dinner.
Breakfast and Lunch dress code conduct of resort casual wear.
DINNER

MENU
4:30 PM - 9:00 PM
soup & salad
Corn and Red Pepper Bisque
roasted corn, red pepper crema, chive oil, Nueske's bacon gf
13
Garden Salad
Jumpin Good Goat Dairy herbed goat cheese, mushroom "soil", tender asparagus, peas, shaved radish, confit mushrooms, pearl onions, lemon infused extra virgin olive oil ±
16
Caesar Salad
baby romaine, creamy Caesar dressing, Boquerón's, garlic croutons, parmesan ±
14
Tomato Caprese
heirloom tomatoes, burrata mozzarella, garlic croutons, balsamic reduction,
strawberry jalapeno jam, basil pesto ±
15
± Salad extras: grilled chicken 6 | Atlantic salmon 9
appetizer
House Made Focaccia
whipped European style butter, local honey, basil Amarillo pepper mascarpone
10
Colorado Cheese Board
ask about our rotating Colorado cheeses, served alongside crackers, nuts & preserves
22
Tempura Battered Ahi Tuna
nori-wrapped tuna, scallions, creamy sriracha aioli, wakame salad
19
Crab & Cucumber Cannelloni
citrus crab salad, shaved cucumber, charred pepper coulis, lemon cream †
19
Classic Calamari
Fried golden brown squid ringlets, served with lemon basil aioli
20
entrée
Goat Cheese Fettuccine
creamy goat cheese sauce, wilted spinach, roasted garlic, local mushrooms,
tarragon, Pappardelle's fresh pasta
30
Rack of Lamb
creamy Boursin risotto, fresh peas, minted carrot puree, red wine demi-glace † gf
45
Seared Duck Breast
pea puree, springtime vegetables, toasted walnuts,
apple gastrique, red wine demi † gf/df
37
Seared Salmon
Served with quinoa, baby kale & broccolini, Marionberry honey glaze gf/df
34
Grilled Pork Chop
brined pork chops, sweet potato, chili-spiked pork jus, caramelized Brussels sprouts †
35
The 14er
14 oz Colorado-raised strip steak, creamy mashed potatoes, blue cheese cream,
confit mushrooms, crispy onions † gf
45
Fish & Chips
battered walleye, potato wedges, lemon-basil aioli, lemon †
35
Hanger Steak
8 oz butcher's steak, roasted potatoes, tender asparagus, glace de viande † gf/df
35
Royal Wagyu Burger
bacon & jalapeno jam, Harvest Moon challah bun, gold leaf,
micro arugula, aged Gouda cheese sauce †
served with french fries, sweet potato fries or truffle fries
28
† = cooked to order gf/df = omit gluten or dairy as primary ingredients
20% gratuity is added to tables of 6+ Please consider limiting split checks to two
Our kitchen handles foods containing gluten, nuts, dairy, eggs, soy, fish & meats, and cannot certify dishes "free" of any.
Consuming raw or undercooked meats, poultry, seafood, shellfish, or eggs may increase your risk of foodborne illness.
DESSERT

MENU
ANGEL FOOD CAKE
strawberry and pineapple,
pina colada sorbet, fresh mint - d f - 11
DARK CHOCOLATE & CHERRY TORTE
stewed cherries, Dulce De Leche caramel, Marcona almonds, crème fraiche - gf - 13
CLASSIC CHOCOLATE MOUSSE
espresso syrup, vanilla whipped cream,
orange segments - gf - 12
LIMONCELLO CHEESECAKE
ricotta, pistachio crust,
tropical fruit - 13
VANILLA BEAN CRÈME BRÛLÉE
lady finger cookie, fresh berries, whipped cream - 12
SEASONAL SORBET
served with mixed fruit, sugar garnish
Please inform your server of any dietary restrictions. Be aware that our facility prepares foods and uses ingredients that may contain nuts, gluten or dairy.
Wine List
Signature Cocktails | Spirits | Beer

Express Breakfast: 7:30am-11:00am
Breakfast 8:00-11:15am
There is no better way to start your day than with one of our hearty breakfast entrees. Choose from traditional items such as pancakes or eggs, spicy South of the Border, or or seasonal specials.

11:30am-4:00pm
From soups and fresh salads to an enticing array of unique entrees, our lunch menu is sure to pique your appetite. Dine inside or enjoy the incredible views of the Chalk Cliffs and the surrounding 14,000' peaks.

4:30pm-9:00pm
(Dinner reservations until 8:20pm and to-go & walk-in until closing)
Paired with a generous selection of fine wines, we offer gourmet, hearty entrees featuring the best Colorado products available. Save room for a scrumptious dessert!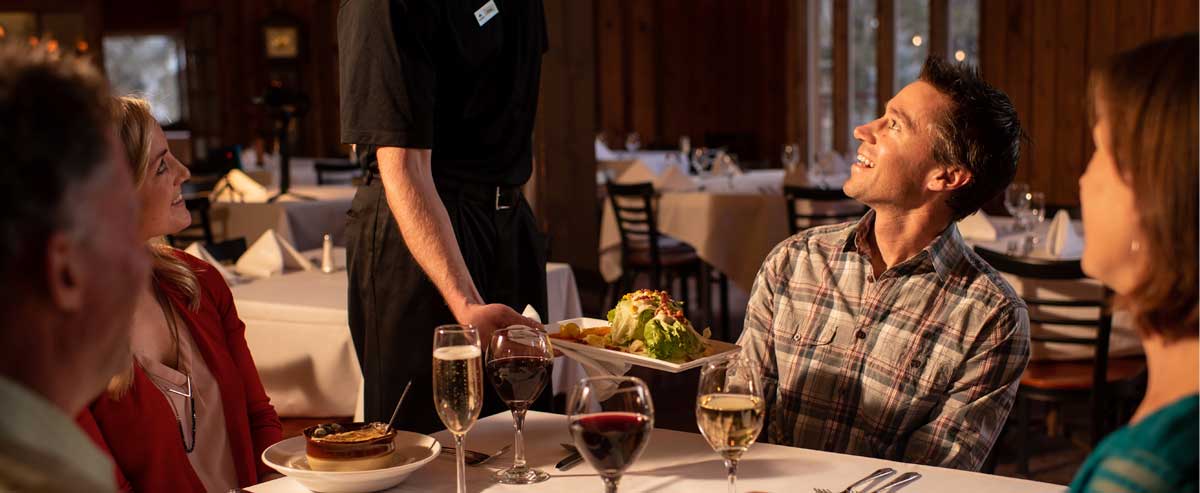 11:30am-9:000pm
From soups and fresh salads to an enticing array of unique entrees, our lunch menu is sure to pique your appetite. Dine inside or enjoy the incredible views of the Chalk Cliffs and the surrounding 14,000' peaks.
May We Help You
Plan Your Visit?