At The Mount Princeton Hot Springs Resort Spa & Club

 Access Included With Overnight Stay or Spa Treatment
Day Pass Available | Adults Only Age 16+
CASCADING HOT SPRINGS POOLS
At The Mount Princeton Hot Springs Resort Spa & Club

 Access Included With Overnight Stay or Spa Treatment
Day Pass Available | Adults Only Age 16+

PLEASE CLICK HERE FOR IMPORTANT HOT SPRINGS INFORMATION
As a precautionary health measure for our support specialists in light of COVID-19, we're operating with a limited team. Thanks for your patience, as it may take longer than usual to connect with us.
You may experience a busy signal. Our phones are not down.
We are experiencing an extraordinary amount of phone calls.
The best way to reach us is to email us and we will get back to you as soon as possible.
Read about our practices during the Covid19 recovery period
MOUNT PRINCETON HOT SPRINGS RESORT
The Perfect Meeting Place For Business Or Pleasure
HOT SPRINGS

These odorless hot springs bubble out of the ground at 140 degrees Fahrenheit.
The hot springs are open to the public year-round.
Hot Springs Policies
Soaking capacities have been increased at Mount Princeton Hot Springs Resort.
Reservations Are No Longer Required For The Hot Springs
Soaking capacity restrictions have been increased at Mount Princeton Hot Springs Resort.
This increased capacity will not require reservations and no time limits will be set for hot spring soaking.
Overnight guests will have access to the hot springs during operating hours, from the day you check in through the day you check out.
A wait list is likely during this holiday week. Please be prepared to partake in another activity if the facility of your choice is full.
New Hot Springs Policies
The maximum number of soakers allowed in each pool will be posted at each facility.
Family groups or groups traveling together are preferred to soak together.
Associates will ensure the maximum number of gatherings does not exceed the posted allotment and will assist guests as needed.
Associates will be dedicated to the ongoing disinfectant cleaning of all pool and bath house areas.
Deck seating will be spread 6 feet apart minimizing social interactions between parties. Please do not move deck seating.
Please take personal responsibility and wear a face covering while on the deck of the pools and in public spaces.
Directional markings around pools will allow guests to navigate walking space without crossing paths.
Locker rooms will remain closed.
All guests, resort or day use, please come dressed for soaking.
Outside food and drinks are not allowed.
The Spa & Club 
The Spa & Club is reserved for overnight guests and patrons receiving spa services age 16+.
Creekside Hot Springs Are Closed
Creekside Hot Springs Are Currently Closed.
The seasonal closure of our natural pools is for your comfort and safety.
These natural pools reopen when the creek flow lessens and hot water is exposed again.
Typically, these closures are experienced May-August.
Please call for more details on current creek flows.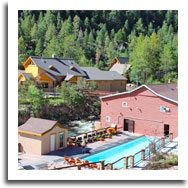 The Historic Bath House was established in Established 1867. Here you may enjoy the soaking pools reaching temperatures up to 105 degrees Fahrenheit and the exercise pool in the 90s.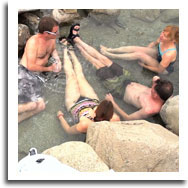 The Creekside hot spring pools are broken down into natural individual pools raging in temperatures fro 70 degrees Fahrenheit to 120 degrees Fahrenheit.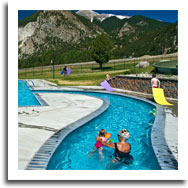 The upper hot spring pools have a 400 foot water slide. These pools offer incredible Rocky Mountain views and are kept at about 75 degrees Fahrenheit.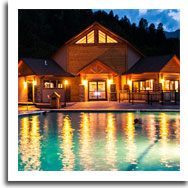 Spa & Club
This sanctuary reserved for guests age 16 and above. The relaxation pool is maintained at around 100 degree Fahrenheit. The temperature of the cascading hot spring pools vary from 107 degrees down to 101 degrees Fahrenheit.