Impress your loved one with a private soak in all-natural, mineral and odorless water.
L'AMOUR

PACKAGE
719-398-5191
L'Amour Package

$275 per couple

Dinner for two and a private soak in the hot springs.

This offer is perfect for guests who are looking for a romantic place to propose, celebrate the anniversary or for those who want to enjoy a private soak with a loved one.
The Infinity Pool is available for private rentals:
 9:00 AM — 9:00 PM Monday and Thursday​. The Pool is closed on Tuesdays and Wednesdays in the winter season.
5:30 PM – 12:00 AM Friday – Sunday. Until Memorial Day Weekend.
Memorial Day – Labor Day the Infinity Pool & 400′ Water Slide are available daily for private rentals 5:30PM – 12:00 AM
Includes:
90-minute private soak for 2
Dinner for 2
Dessert to share
2 glasses of wine or beer
Towels and robes
During the winter dinner will be served in the Conference Cabin.
Guests can choose between the Spa & Club Relaxation Pool, Bath House, or the Infinity Pool.
Private hot spring rentals do not include access to the other hot springs.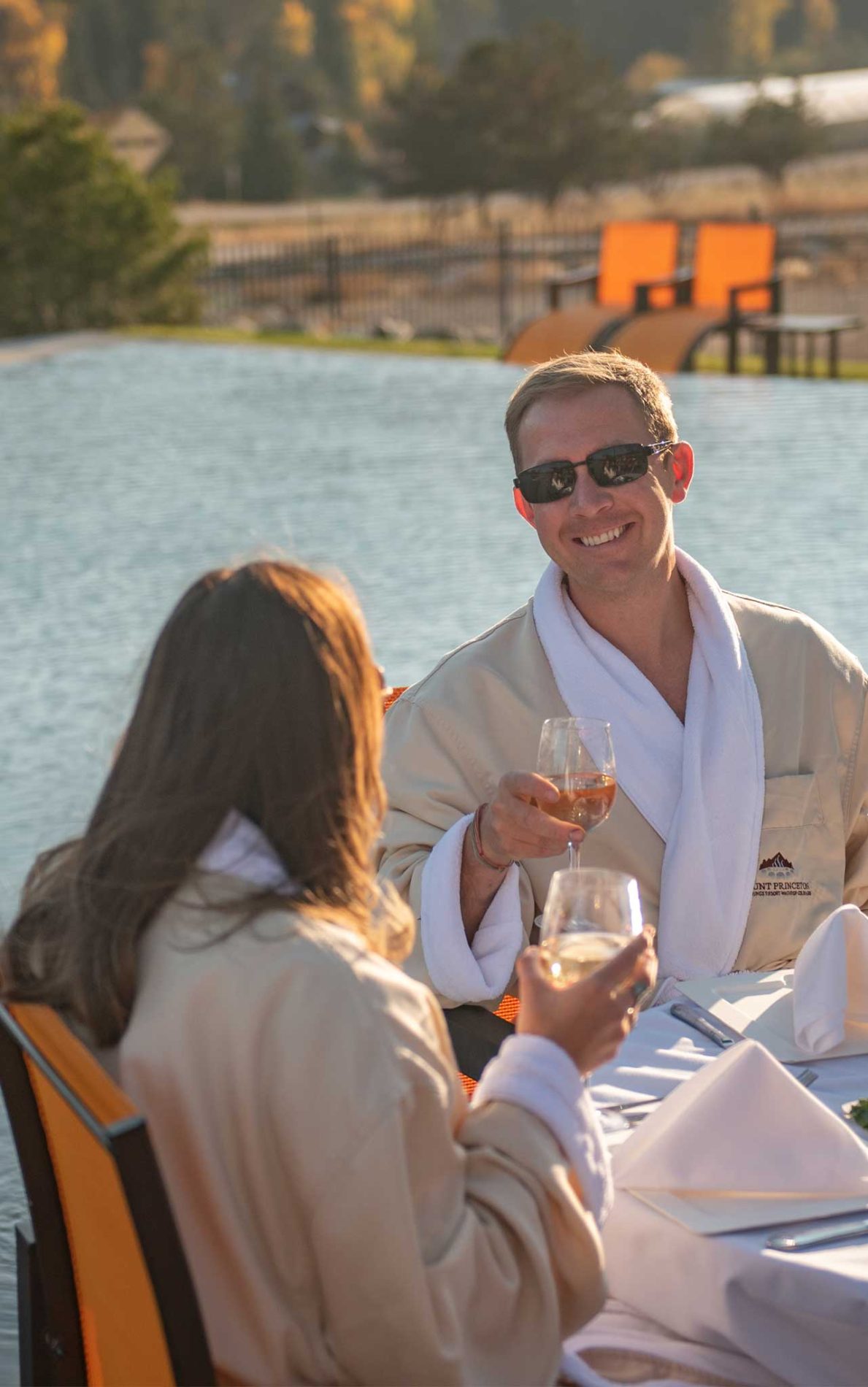 Signature Entrees
NY Strip Steak
12 oz Strip Loin/Parmesan Whipped Potatoes/Black Garlic Butter/Grilled Broccolini
Pork Chop
Honey Balsamic Glaze/Harissa Carrots/Parsnip Puree
Seared Walleye
Corn & Fava Bean Succotash/Marinated Tomato/Hollandaise
Zucchini & Linguine
Preserved Lemon/Zucchini/Linguine Pasta/Fine Herbs/Garlic/Chili Flake/Parmesan
Dessert
Lava Cake
Orange Segments/Caramel Sauce/Marcona Almonds/Vanilla Bean Ice Cream
NY Style Cheesecake
Maple & Blueberry Syrup/Fresh Blueberries/Parmesan Crisp
Coconut Milk & Lime Panna Cotta
Passion Fruit & Chia Seed Sauce/Strawberries/Pistachio Brittle/Mint
Wine
Kiona Late Harvest Reisling (a Sweet White Wine)
Tenuta Pinot Grigio (A dry fruit forward white)
13 Celsius Sauv Blanc (a Dry white wine)
Mieomi Chardonnay (Slightly Oaky White)
Seven Falls Merlot (A dry, balanced red)
Milton Park Shiraz (Berry forward with pepper finished red)
Elouan Pinot Noir (plum and berry forward red)
Canyon Road Cabernet (a balanced, red)
Bervini Prosecco
INFINITY

POOL
UPPER POOLS
Open Year-Round Since 1897
SPA & CLUB
MOUNT

PRINCETON
HOT SPRINGS RESORT
The Spa & Club Is Reserved For Overnight Guests And Spa Treatment Patrons Age 16+
Open Year-Round Since 1897
MOUNT

PRINCETON
HOT SPRINGS RESORT
May We Help You
Plan Your Visit?