Soak in stunning views and mineral hot springs benefits at our unique Infinity Pool — enjoyed exclusively by your party.
PRIVATE POOL

PARTY
719-398-5191
Looking for a unique way to celebrate a special occasion or simply want to treat yourself and your loved ones to a fun and relaxing day in Colorado? Look no further than Mount Princeton Hot Springs Resort for aprivate hot spring pool party.

Our resort offers a variety of options for private pool parties, including access to our natural geothermic pools and luxurious accommodations. Whether you're planning a birthday celebration, bachelorette party, or just a day of fun with your closest friends and family, our private pool parties are the perfect way to make lasting memories.

Choose from several different hot spring pools, each with its own temperature and ambiance. Our outdoor pools offer breathtaking views of the surrounding mountains, while our infinity pools provide a cozy and intimate setting for your private party.

In addition to our hot spring pools, our resort offers a variety of amenities to enhance your private pool party experience. Treat yourself to a massage or other spa treatment at our on-site spa, or indulge in a delicious meal at our restaurant. And for those looking to extend their stay, our resort offers a variety of luxurious accommodations, including hotel rooms, cabins, and even a vacation home rental.

At Mount Princeton Hot Springs Resort, we pride ourselves on providing exceptional service and a one-of-a-kind experience for our guests. Let us help you plan your next private hot spring pool party in Colorado and create memories that will last a lifetime.
PRIVATE POOL PARTY

Host your special party at the new, Infinity Hot Spring pool and enjoy spectacular mountain views only with your group members.
Private Pool Hours:
October

Mondays & Thursdays
Infinity Pool Only
12:00 pm - 7:00 pm

November – May
Private hot spring rentals do not include access to the other hot springs.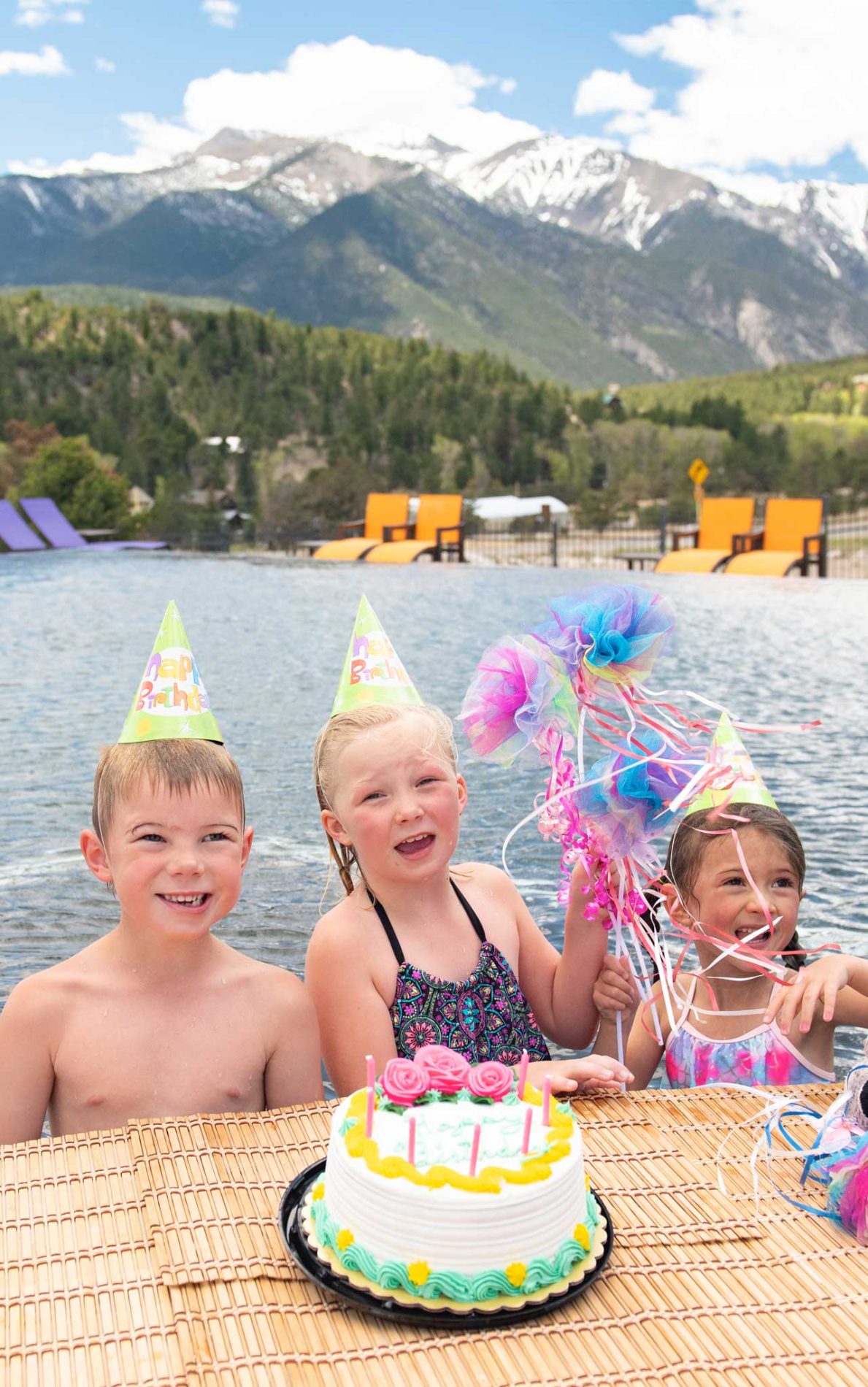 PRICES 2023
2 people
4 people
5-9 people
10-29 people
30 +
90 minutes
$150
$250
N/A
N/A
N/A
2 hours
$200
$300
$350
$500
$800
extra hour
$50
$50
$50
$50
$100
 Water slide
$200
$200
$200
$200
$250
Pool Party Catering Menu
All menu themes are presented on deli style platter, with lids, or in disposable chafing dishes for ease of use.
Minimum of 2 people per platter.
The Deli Platter: $15.00 per person
Assorted deli meat/assorted breads/cheese/lettuce/tomato/onion/condiments/chips
Vegetable Crudité Platter: $16.00 per person
Carrots/Celery/Bell Pepper/Hummus/Ranch/crostini Sundance
Fruit Platter: $16.00 per person
Pineapple/Cantaloupe/Honeydew/Strawberries/Blueberries/vanilla yogurt
Cheese platter: $20.00 per person
Rotating selection of imported cheeses/seasonal crackers/honey/berries
Cupid's Picnic Platter: $20.00 per person
Tuxedo covered Strawberries/Brownie Bites/assorted cookies/ dried fruit/nuts
The Tailgate $15.00 per person
Chicken wings/fries/bbq/celery/ranch & blue cheese dressing
The Kinder Party $15.00 per person
Cheeseburger/Chicken tenders/fries/condiments/cookies
Please note 15% gratuity will be added to all food & beverage orders. 72-hour notice is required to place the food order.
Pool Event Beverages
Bottle of wine $30
Pino Grigio, Sauvignon Blanc, Chardonnay, Riesling, Prosecco, Rose, Cabernet Sauvignon, Pinot Noir
Beers $7
Soulcraft Brewery Selections : X-ray IPA, El Pecador Amber, Moon Itcher Helles, Green Chili Ale, Hazy Pale Ale, Stem Hard Apple Cider,
Coors light, Bud light, Corona
Canned Cocktails $7
Margaritas, Mojitos, Moscow Mules, Whiskey Lemonade, Mimosas
Sodas $3
Coke, Sprite, Dr. Pepper
Product availability subject to change
Kegged beer – subject to availability - $150- $225
Bartender service is required for groups 10 and more. 1 hour of bartender service is $25.
Hot Springs
Open Year-Round Since 1897
SPA & CLUB
MOUNT

PRINCETON
HOT SPRINGS RESORT
The Spa & Club Is Reserved For Overnight Guests And Spa Treatment Patrons Age 16+
Open Year-Round Since 1897
MOUNT

PRINCETON
HOT SPRINGS RESORT
May We Help You
Plan Your Visit?