Impress your loved one with a private soak in all-natural, mineral and odorless water.
SELF-CARE

SPECIAL
719-398-5191
Self-Care Special

90-minutes of the private soak for 2 
Hydrating & rejuvenating self-facial 
A bottle of wine of your choice 
Towels
Bottled water
Robes

 

Price: $225
Private Pool Hours:
Starting October 1, 2023 the Infinity Pool will be available for private events Mondays & Thursdays 12-7 pm and on weekends 5:30-11:30 pm.
Starting November 1, 2023 the Infinity Pool will be available for private events on Thursdays 12-7 pm and on weekends 5:30-11:30 pm.
Private hot spring rentals do not include access to the other hot springs.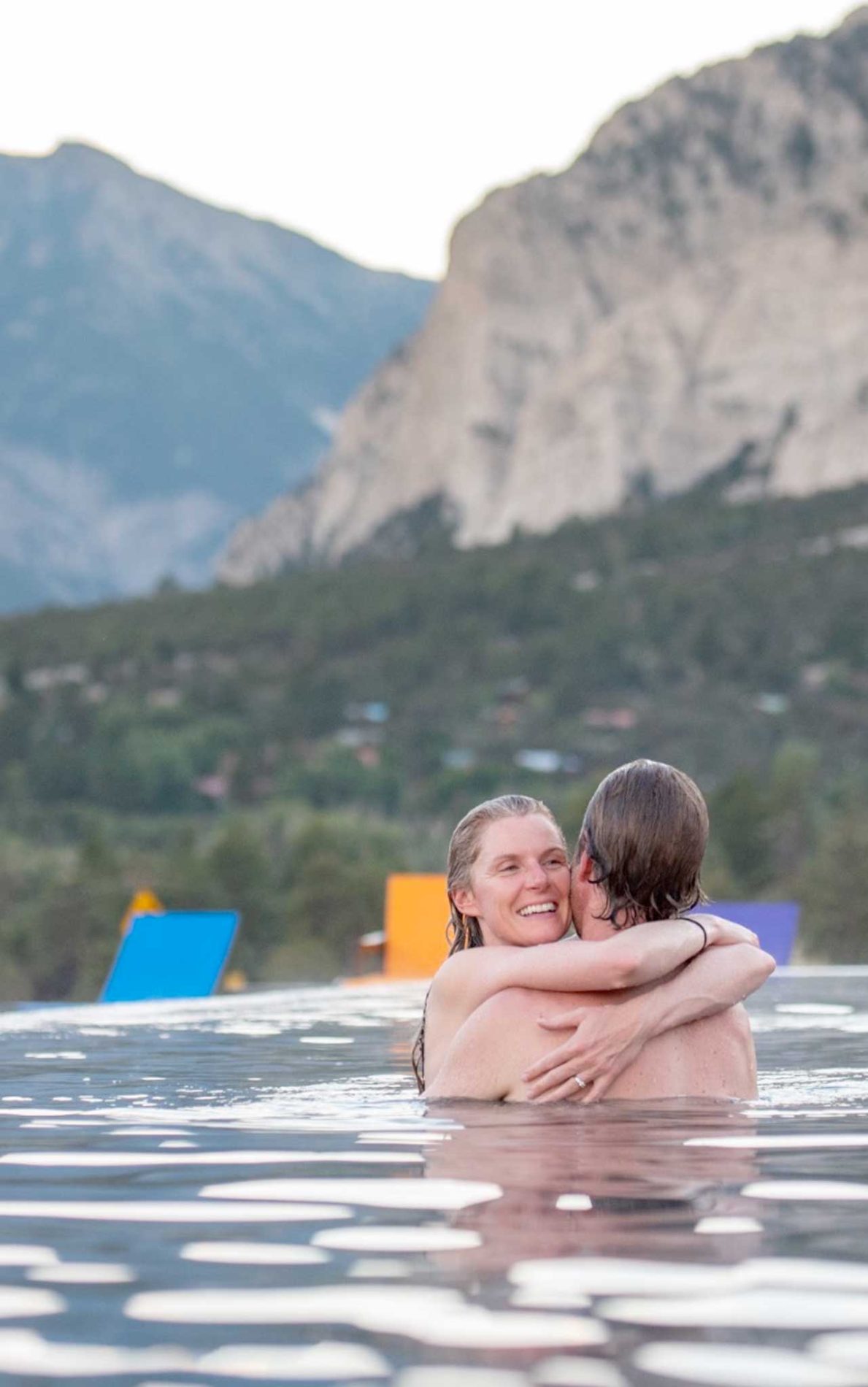 Pool Party Catering Menu
All menu themes are presented on deli style platter, with lids, or in disposable chafing dishes for ease of use.
Minimum of 2 people per platter.
The Deli Platter: $15.00 per person
Assorted deli meat/assorted breads/cheese/lettuce/tomato/onion/condiments/chips
Vegetable Crudité Platter: $16.00 per person
Carrots/Celery/Bell Pepper/Hummus/Ranch/crostini Sundance
Fruit Platter: $16.00 per person
Pineapple/Cantaloupe/Honeydew/Strawberries/Blueberries/vanilla yogurt
Cheese platter: $20.00 per person
Rotating selection of imported cheeses/seasonal crackers/honey/berries
Cupid's Picnic Platter: $20.00 per person
Tuxedo covered Strawberries/Brownie Bites/assorted cookies/ dried fruit/nuts
The Tailgate $15.00 per person
Chicken wings/fries/bbq/celery/ranch & blue cheese dressing
The Kinder Party $15.00 per person
Cheeseburger/Chicken tenders/fries/condiments/cookies
15% service fee will be added for parties 10
Pool Event Beverages
Bottle of wine $30
Pino Grigio, Sauvignon Blanc, Chardonnay, Riesling, Prosecco, Rose, Cabernet Sauvignon, Pinot Noir
Beers $7
Soulcraft Brewery Selections : X-ray IPA, El Pecador Amber, Moon Itcher Helles, Green Chili Ale, Hazy Pale Ale, Stem Hard Apple Cider,
Coors light, Bud light, Corona
Canned Cocktails $7
Margaritas, Mojitos, Moscow Mules, Whiskey Lemonade, Mimosas
Sodas $3
Coke, Sprite, Dr. Pepper
Product availability subject to change
Kegged beer – subject to availability - $150- $225
Bartender service is required for groups 10 and more. 1 hour of bartender service is $25.
Indulge in a truly luxurious self-care experience with the Self-Care Special at Mount Princeton Hot Springs Resort. Designed to provide you and a companion with the ultimate relaxation and rejuvenation, this package offers a 90-minute private hot spring soak for two, ensuring an intimate and tranquil experience.

Immerse yourself in the healing and soothing waters of the private hot springs, allowing the natural minerals to melt away your stress and tension. As you soak, let the therapeutic properties of the hot springs revitalize your body and mind, promoting a sense of calm and well-being.

To enhance your pampering session, the Self-Care Special includes a hydrating and rejuvenating self-facial. Nourish your skin with high-quality skincare products as you treat yourself to a soothing facial treatment, leaving your complexion glowing and refreshed.

To complement the experience, a bottle of wine of your choice is provided, allowing you to savor a glass of your preferred vintage while immersing yourself in the hot springs. Indulge in the perfect blend of relaxation and indulgence as you sip your wine and unwind.

During your visit, you will be provided with towels, bottled water, and robes, ensuring your comfort and convenience throughout your stay. The resort's attention to detail and commitment to providing a truly exceptional experience will make your self-care journey even more enjoyable.

The Self-Care Special is priced at $225, offering an affordable way to treat yourself and a loved one to a well-deserved escape. Whether you're seeking a romantic getaway or simply craving some much-needed self-care, this package at Mount Princeton Hot Springs Resort is the ideal choice for those seeking relaxation, rejuvenation, and a touch of luxury.
INFINITY

POOL
UPPER POOLS
Hot Springs
Open Year-Round Since 1897
SPA & CLUB
MOUNT

PRINCETON
HOT SPRINGS RESORT
The Spa & Club Is Reserved For Overnight Guests And Spa Treatment Patrons Age 16+
Open Year-Round Since 1897
MOUNT

PRINCETON
HOT SPRINGS RESORT
May We Help You
Plan Your Visit?