Impress your loved one with a private soak in all-natural, mineral and odorless water.
PRIVATE

SOAK
719-398-5191
Looking for a romantic getaway in Colorado? Look no further than Mt. Princeton Hot Springs Resort. Our private hot spring soaks offer a luxurious and intimate experience for couples looking to reconnect and relax.

Our private hot spring pools are located on the banks of Chalk Creek, providing stunning views and a serene atmosphere. Each pool is reserved for one couple at a time, ensuring complete privacy and relaxation.

Our private hot spring pools are available for rent by the hour or for an entire day. You can even add on food & drinks to enhance your experience.

Book your romantic private hot spring soak at Mt. Princeton Hot Springs Resort today for a truly unforgettable experience with your loved one.
Private Soaks

$150 / 1.5 Hours / 2 people

Find yourselves secluded and away from the crowds to achieve the ultimate level of relaxation. Here you can truly be yourselves as the entire pool is reserved only for you two.
Private Pool Hours:
Infinity Pool
Thursdays 9:00AM-6:00PM
Friday, Saturday, Sunday 5:30PM- 11:00PM
Spa & Club Pools
Friday, Saturday, Sunday 9:15PM-11:15PM
Please note all the pools are closed for private events on Mondays, Tuesdays, and Wednesdays in the winter season.
Private hot spring rentals do not include access to the other hot springs.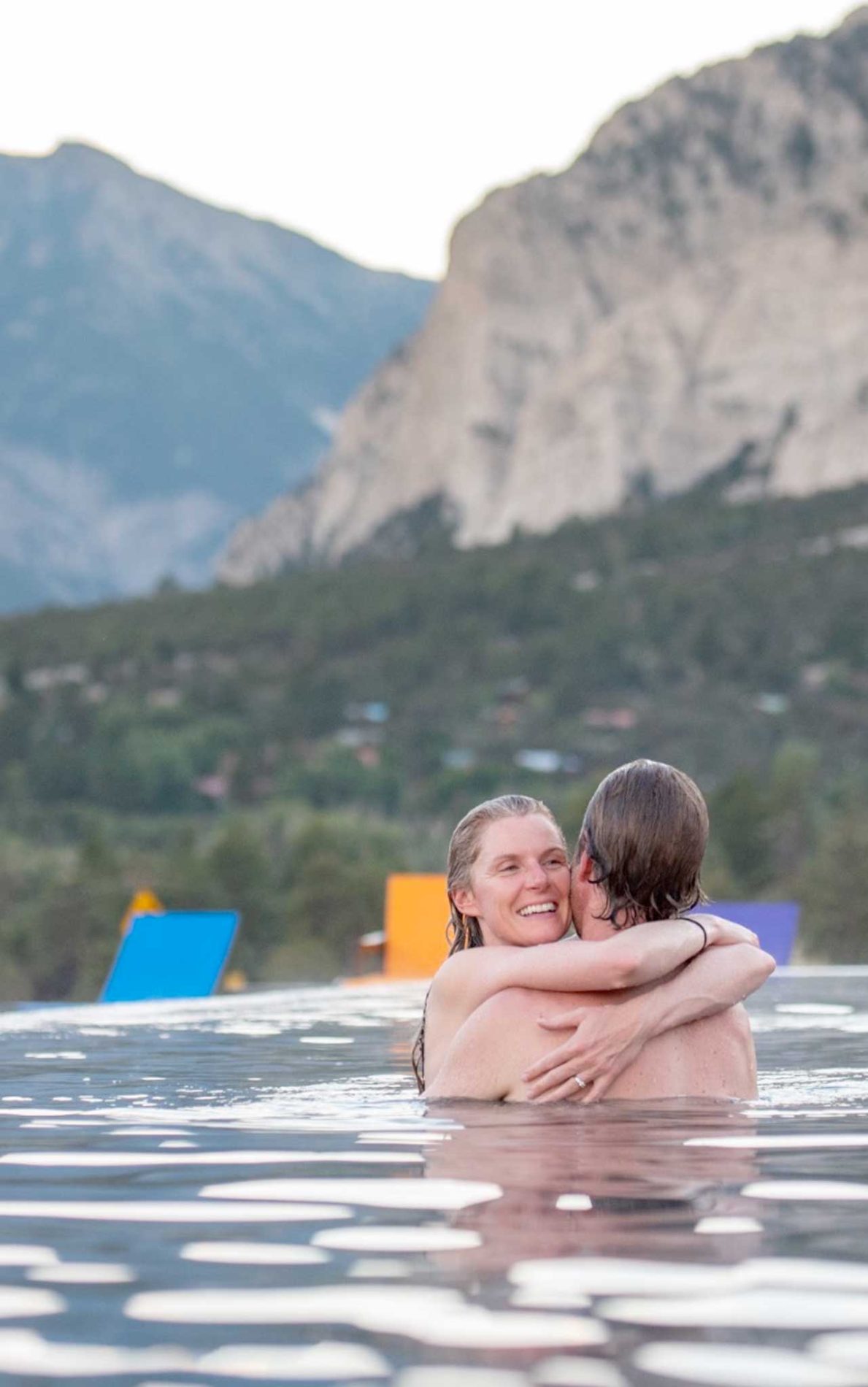 Pool Party Catering Menu
All menu themes are presented on deli style platter, with lids, or in disposable chafing dishes for ease of use.
Minimum of 2 people per platter.
The Deli Platter: $15.00 per person
Assorted deli meat/assorted breads/cheese/lettuce/tomato/onion/condiments/chips
Vegetable Crudité Platter: $16.00 per person
Carrots/Celery/Bell Pepper/Hummus/Ranch/crostini Sundance
Fruit Platter: $16.00 per person
Pineapple/Cantaloupe/Honeydew/Strawberries/Blueberries/vanilla yogurt
Cheese platter: $20.00 per person
Rotating selection of imported cheeses/seasonal crackers/honey/berries
Cupid's Picnic Platter: $20.00 per person
Tuxedo covered Strawberries/Brownie Bites/assorted cookies/ dried fruit/nuts
The Tailgate $15.00 per person
Chicken wings/fries/bbq/celery/ranch & blue cheese dressing
The Kinder Party $15.00 per person
Cheeseburger/Chicken tenders/fries/condiments/cookies
15% service fee will be added for parties 10
Pool Event Beverages
Bottle of wine $30
Pino Grigio, Sauvignon Blanc, Chardonnay, Riesling, Prosecco, Rose, Cabernet Sauvignon, Pinot Noir
Beers $7
Soulcraft Brewery Selections : X-ray IPA, El Pecador Amber, Moon Itcher Helles, Green Chili Ale, Hazy Pale Ale, Stem Hard Apple Cider,
Coors light, Bud light, Corona
Canned Cocktails $7
Margaritas, Mojitos, Moscow Mules, Whiskey Lemonade, Mimosas
Sodas $3
Coke, Sprite, Dr. Pepper
Product availability subject to change
Kegged beer – subject to availability - $150- $225
Bartender service is required for groups 10 and more. 1 hour of bartender service is $25.
INFINITY

POOL
UPPER POOLS
Hot Springs
Open Year-Round Since 1897
SPA & CLUB
MOUNT

PRINCETON
HOT SPRINGS RESORT
The Spa & Club Is Reserved For Overnight Guests And Spa Treatment Patrons Age 16+
Open Year-Round Since 1897
MOUNT

PRINCETON
HOT SPRINGS RESORT
May We Help You
Plan Your Visit?